Tue: split over $5,400.00!
Sun 2PM Split over $2,500.00!
Temporarily Closed Mondays: will resume soon!



The White Sabers Drum Corps is officially moving it Gates! Unfortunately we will need to suspend their Monday game until all the paper work is finalized. When we resume, all jackpot and bonus ball carry overs will pick up where we left off.
Prizes and Caryovers
Monday, August 1 ~
Sunday August 7

Monday 7:00 PM
Prizes once games resume
Black 55 $2,316.00
Purple 55 $1,066.50
Bonus Ball $308.25

Tuesday 7:00pm
Black 50 $663.00
Purple 56 $5,471.00
Bonus Ball $2,019.25

Thursday 7:00PM
Black 52 $2,403.000
Purple 49 $300.50
Bonus Ball $1,137.00

Friday 7:30 PM
Black 49 $476.00
Purple 49 $286.00
Bonus Ball $1,212.75

Sun. Noon
Lime 52 $846.50
Bonus Ball $4,144.50
2pm
Aqua 53 $2,556.00
Tan 50 $536.00
Bonus Ball $178.50





















Hall Hours:

Sun: 10:30AM
Mon: 5:30PM
Tue: 5:30PM
Wed: Closed
Thur: 5:30PM
Fri: 5:45PM
Sat: Closed

Hall closes at the conclusion of the last game.

585-270-5254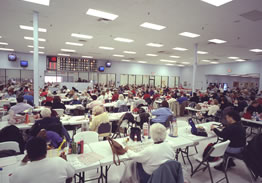 Our clean, spacious 17,000 sq. ft. facility.


Follow us for Split-Pot prizes, cancellations, corrections and other notices.






Weather for
Legal Disclaimer: Prize amounts and progressive numbers are presented on our website, phone system, newspaper advertisements and front board as a convenience to our highly valued patrons. We strive diligently to ensure the accuracy of our listings. However the official figures, reported by law to NY State, represent the actual prize total and, in accordance with NYS Gaming Regulations, is the only amount that can be awarded.